28 Days of Melanin by Roshayne Alannah Morrison
Happiness: Day 1
"For me being black means to be resilient.

It means having the strength to bounce back from anything, and the motivation to move forward.

This is what I love about my blackness and I wear it proudly everyday like a crown." - Tamara

Muse: Tamara
Shot by: R. Alannah Morrison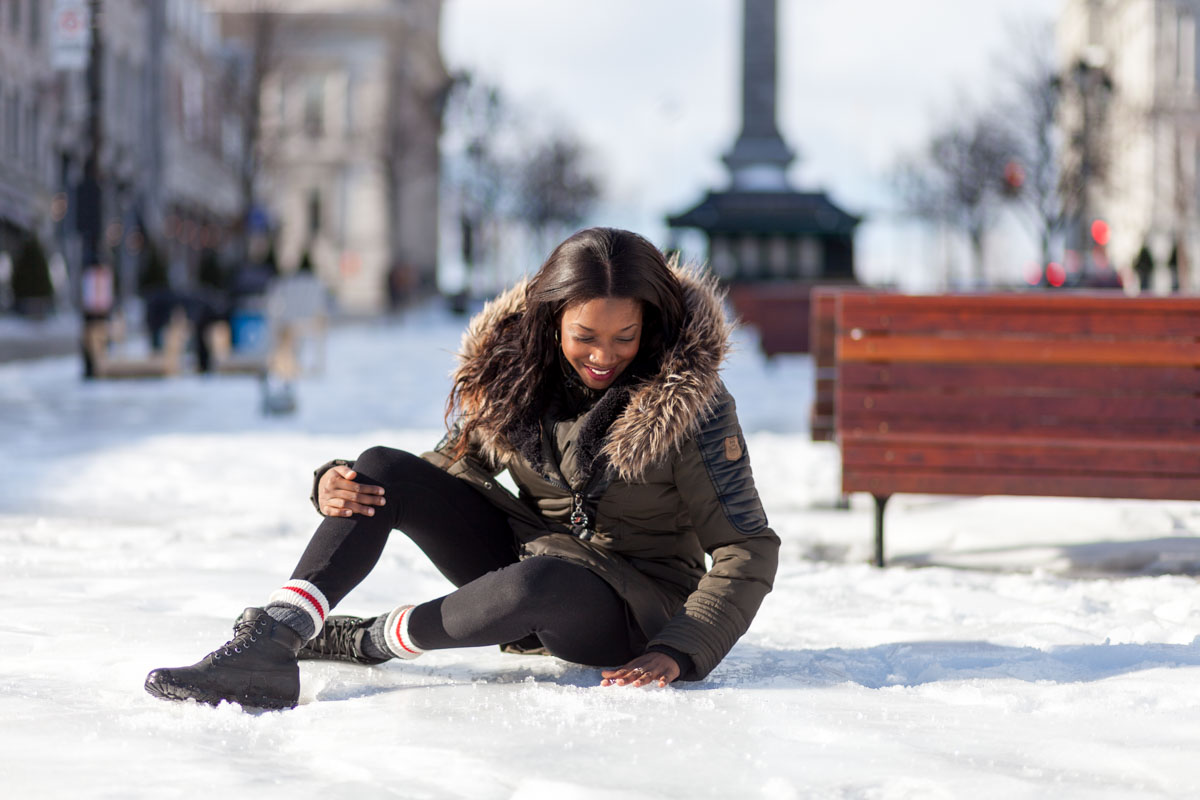 Peace: Day 2
"Being black is beautiful; being black is pride; being black is culture. To know that your ethnicity has the ability to unify others on a global level is an empowering feeling. Being black makes me an ambassador of peace, and prosperity. To grow, develop, and thrive in a world that my ancestors paved for me. For this, being black is a blessing; and a responsibility that I proudly accept." - Kadeem Maxwell
Shot by: R. Alannah Morrison
Muse: Kadeem Maxwell
Truth: Day 3
"Being black for me is being resilient; resilient in a world where we consistently live under economic and social adversities.

Being black is having that deep feeling of ''otherness''. Being black is being expected to act or talk a certain way.

Being black is not being seen as an individual, but it's having this burden to represent a whole ethnic group.

Being black is having that mysterious beauty that society envies, but will never give credit for." - Elvira R.
Shot by: R. Alannah Morrison
Muse: Elvira R.
Evolution: Day 4
"My blackness? A divine old writing says that everything came from darkness; from darkness came light.

It's a genetic blessing. Scientists say every race came from the original man in Africa and we have the strongest genes; black don't crack.

As cool as it seems or as perfect as my skin tone could be, it could also be a curse. In our society, shopping or driving a nice car while black could get you in trouble.

Hopefully this changes with time and with the Black Panther movie from Marvel that's coming out! 😄😎" - Ernst Pierre
Shot by: R. Alannah Morrison
Muse: Ernst Pierre
Unique: Day 5
"To me, black means to be you. To be unique, proud and strong. To love unconditionally and effortlessly.
Black is more than just a shade; it is power that resides in man, woman and child.
Black is beauty." - Akhyra
Shot by: R. Alannah Morrison
Muse: Akhyra
Individuality: Day 6
"I don't see myself as a black man. I see myself as a free thinking individual who just happens to be black. The colour of my skin doesn't define who I am as a human being." - David V.
Shot by: R. Alannah Morrison
Muse: David V.
Pride: Day 7
"I'm proud to be black. It's an honor for me to be black, to continue to rise upon the hatred from our past and present. To be black for me is to represent my ancestors that fought for us so we can see a brighter futur.

We, as the original people, have to show the path to cure humanity from the evil that's taking a larger place than love. We have to bring Love as we always did. That's my vision and I think it's the same wishes that our ancestors had.

I'm proud to wear my crown; to show humanity who we really are.

Our beauty is more inner than physical." - Makasi Rootz
Shot by: R. Alannah Morrison
Muse: Makasi Rootz
Resilience: Day 8
"I have to work three, four times harder just to prove that I'm just as capable as the next person. Resilience is a big part of my life and also my ancestors. God knew what he was doing blessing me with my skin colour." - Sam B.
Shot by: R. Alannah Morrison
Muse: Sam B.
Strength: Day 9
"What does it mean for me to be black? Being black to me, means more than just being a watermelon and fried chicken eater and Kool-Aid drinker.
Being black to me means that not only my melanin is popping and my golden skin got kissed by the sun, but i also "got royalty, got royalty inside my DNA"... thank you Kendrick.

Being black to me means that I have a strong heritage and the strength all my ancestors left for us to be proud of and have the freedom to say out loud that we are black without fearing all the way to our soul.

Being black for me means that i have the heart of a Queen pomping in my chest and the blood of a slave flowing in my veins.

Being black to me means that we are the most imitated, but also the most hated on the planet but greatness never comes without hate.

And most importantly, being black to me means that we are the mother of all race and a mother's heart will never stop loving no matter how deep cuts and pains are." - D.
Shot by: R. Alannah Morrison
Muse: D.
Inspiration: Day 10
"To me what it means to be black is to be a survivor, as well as to be strong.

Strong for my ancestors that had to put up with the struggles in slavery, and as result had to put up with so much for us.

Strong for my family and friends who constantly motivate, and push me to become the best version of myself, as well as being Strong for myself because I will always have to push myself twice as hard to prove to others that I am more than capable, and honestly I don't mind because I am winning against all the odds.

I love that despite the struggles and the challenges that I am faced with, I am still positive about the situation and am willing to give back to others, as well as motivate, and as a result inspire others to be the best version of themselves. Don't believe me? Look at my million dollar smile. But at the end of the day, I am about spreading peace, love, and positivity. And I would also like you all to remember to do your best and forget the rest." - Sirdreek Devonte
Shot by: R. Alannah Morrison
Muse: Sirdreek Devonte
Identity: Day 11
"Being black is being Afrikaan. Being the first, the aboriginal, the most diverse and creative being. We are magical and Royalty. I am proud of being a part of our warriors and Queens. Knowledge and knowing our identity. May I keep making my ancestors proud." - Vanessa
Shot by: R. Alannah Morrison
Muse: Vanessa
Knowledge: Day 12
"Being black has taught me to be strong, patient, assertive, open minded, to help those in need, to not give up and to keep chasing my dreams no matter what. I've grown to learn these things and by doing so, I've taught it to others by coaching basketball to kids of different ethnicities.
My blackness defines my culture, my struggles, my achievements. My blackness is not inferior to others. My blackness is, but a skin color that God gave me. My blackness shaped the man I am now." - Glenn.
Shot by: R. Alannah Morrison
Muse: Glenn
Experience: Day 13
"Growing up in white Europe, in a French-speaking region, there was always the assumption that it was better to be black (black American) than noire (African diaspora). "Black" was used to wash away Africanness. People would even say "Vous les black" instead of "Vous les noirs" thinking that is a compliment. I relate more to the term « noire » for those reasons. My experience of being noire is to be othered, mostly in a objectifying, irrespectful and violent way associated with a disgust for Africa… but it is also my biggest source of strength, deep common experience, community feeling and challenging journey. I would never wish to be someone else, to get away from my négritude/african-ness/blackness. It 's definitely part of who I am and I am proud of that." - Pauline B.
Shot by: R. Alannah Morrison
Muse: Pauline B.
Thanksgiving: Day 14
"Black History is more than celebrating a month in a year. It's about giving thanks to all of the human rights activists who sacrificed their lives to create a change in the world. It's about teaching the world, especially the younger generations, that the colour of our skin doesn't make our dreams and aspirations any less meaningful and to remind them that our beauty runs deeper than our skin." - S. Thornhill
"I am not this skin.
I am the soul that lives within." - India.Arie ft Akon -
Shot by: R. Alannah Morrison
Muse: S. Thornhill
Connection: Day 15
"Being black to me is a source of motivation. It pushes me to surpass the expectations of society while being inspired by those who came before me.
Being black is my cultural identity and feeling of belonging. Having a sense of connection to a stranger just by knowing you both have the same history. The subtle smile we share has the most profound meaning.
Being black is strength. Enduring injustices that might be invisible to some and painful to other but continuing to marche forward on the path of a brighter future." - Chastitie G.
Shot by: R. Alannah Morrison
Muse: Chastitie G.
Challenge: Day 16
"Being black is having a history that was stolen and changed, it's fighting against the hate of others and of our own. Being black is cool and challenging." - Moses

"We black men have a hard enough time in our own struggle for justice, and already have enough enemies as it is, to make the drastic mistake of attacking each other and adding more weight to an already unbearable load." - Malcolm X
Shot by: R. Alannah Morrison
Muse: Moses
Undefeated: Day 17
"Why 'Black is Beautiful' ... I'll tell you why. It's beautiful because no matter how many years, decades of strife and abuse we go through, we are never defeated. With genes deeply rooted to past labourers and warriors, kings and queens, we still smile and march on. Watch oh watch how pure our melanin beams.

From mocha to coco, hazel and dark chocolate, we glow in all tones. Isn't our magic fantastic? Copied and tried, but there is no mistaking my Black is Beautiful and there is no replacing it! A black ballerina, I wear my tone with pride with my brothas and sistars striving by my side.

Why is my Black Beautiful? Oh I'll tell you why. I'm the Mother of creation. Through me births life... From Mocha to cocoa, caramel and pale chocolate, my Black is Beautiful. Isn't the magic fantastic?!" #BlackISBeautiful - Jamila
Shot by: R. Alannah Morrison
Muse: Jamila
Expression: Day 18
"Being black to me means being myself. It means to disregard whatever judgments or stereotypical characteristics society may have about me. Expressing myself fully can only get me to where I want to be. And maaaan I just love the fact that I can say that I was born in Haïti period. SUPER." - Rockeagle
Shot by: R. Alannah Morrison
Muse: Rockeagle
Divinity: Day 19
"To me being black is not only a skin tone. Being black is carrying a heritage. It is a pride, it is an ongoing battle that we are still fighting everyday, which made us strong and resilient.

I am black. I am a love story beautifully written. I am strong, I am divine, I am light. I love being black!" - Cindy
Shot by: R. Alannah Morrison
Muse: Cindy
Day 20: Gratitude
"Being black is a synonym of being myself. It is, it was and will always be a part of me. It's in me in the struggles. It's in me in the success. Therefore, I'm proud of being myself, by extension, I'm proud of being black." - JP
Shot by: R. Alannah Morrison
Muse: JP
Power: Day 21
"Being black is to be human like the others. We need to appreciate who we are, and to not let ourselves be disheartened because of our colour, to see our true beauty. Being black is also to stay strong no matter how much inconvenience we have. Being black is a true blessing and no one can say otherwise." - Jimmy
Shot by: R. Alannah Morrison
Muse: Jimmy
Inheritance: Day 22
"For me, being black means walking with the strength of many and embodying their greatness.

I personify not one folk but a myriad of different lineages that I proudly carry as my own.

My Black is my taste of music, my cuisine, and my fashion, these are all derivatives of our genetic inheritance. I am now a living testament of the virtues of my predecessors, my African Ancestors." - Melysha Diamond | "As the ocean is calm, so is it equal in fury. Our journey is determined by how we navigate the waters." - Melysha Diamond
Shot by: R. Alannah Morrison
Muse: Melysha Diamond
Education: Day 23
"I feel like race is a culture thing. I feel like as African-Americans, we are always seen as the underdogs. People may always expect the worst out of us. Racism is still a thing and I still feel it today. But that's a reality of those peoples' culture. They (racists) were brought to think that we (minorities) are degenerates. Real ideas from doctors back then.

We've all been mixing for 10s of thousands of years through earth's history. All our DNA from person to person is actually really close despite "race". I wrote papers on this stuff recently. But I love my culture. I love my uncles and that they'd never fail to have an amazing time in the Caribbean. I love the morals and traditions I've been brought up with, and I feel like I owe it to myself to travel and learn as much I can about what got me the opportunity to be here today." - John
Shot by: R. Alannah Morrison
Muse: John
Intellect: Day 24
"My melanin means there's extra magic ruining through my veins. To know that my ancestors were kings and queens, inventors and scholars and most importantly the origin of mankind, I'm inspired. I'm inspired by our intellect, our beauty, our innovations and I'm inspired to make my contribution to the world. My melanin reminds me that my soul is always illuminated and that it connects everyone in our diaspora. It is exhilarating: I'm proud to be Black! - Miss Cammy
Shot by: R. Alannah Morrison
Muse: Miss Cammy
Purpose: Day 25
"We are champions.
We are revolutionaries.
We are historians.
We are futurists.
We are lovers.
We are fighters.
We are healers.
We are resourceful.
We are purposeful.
We are realists.
We are victims of an agenda.
We are survivors.
We are the beginning.
We are the now.
We are the future.
We are what the world needs.
We are beautiful.
We are magic.
We are BLACK." - Jason W.
Shot by: R. Alannah Morrison
Muse: Jason W.
Conscious: Day 26
Being black is being blessed. It's about being aware of the way people see me because of the color of my skin, but never letting that limit my greatness.
What I love about my blackness is that it is filled with mystery and awe." - Carla
Shot by: R. Alannah Morrison
Muse: Carla
Versatility: Day 27
"Being black is being proud, strong and versatile. I love my blackness because it comes from history of people that have a strong sense of family and never give up no matter what challenges we face." - Thierry
Shot by: R. Alannah Morrison
Muse: Thierry
Celebration: Day 28
I am the strength, the power and the excellence of my ancestors and my comrades.
I am the complete absorption of light yet also the emission of light.

We have been resilient in the face of adversity, overcame hardships and struggles and remained powerful beyond measure. Generations of greatness have preceded me and generations of even more greatness lies ahead.

Black is more than a color that defines me. It's about the culture and heritage that continuously shape who I am as a person.

Hundreds of shades of melanin comprise who we are as a nation and the beauty of it all happens when we embrace who we are.

Melanin curls my hair like "this"
Melanin moves my body like "that"
My colorful presence stands out whether it's desired or not.

I love my Bajan and Jamaican background and, although not yet known, my African heritage.

Being black is a birthright and a badge of honor to walk with my ancestors and to stand proudly.
Muse: R. Alannah Morrison
Shot by: Melysha Diamond